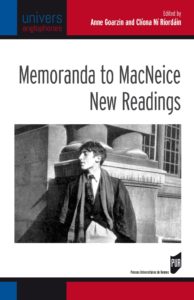 L'ouvrage Memoranda to MacNeice: New Readings, dirigé par Anne Goarzin et Clíona Ní Riordáin, sera publié par les Presses Universitaires de Rennes le 31 janvier 2019.
   This volume of essays, assembled in homage to Adolphe Haberer, brings a distinctly French flavour to MacNeice studies. Many of the articles approach the author from the perspective of French theory; others offer close readings of the poems in the manner of the explication de texte. There are also major essays on MacNeice's radio plays, his connection to the classics, an examination of the pyschogeography of his poetry, along with biographical insights proposed by the classics scholar Robert Jordan. Adolphe Haberer himself offers his A-Z of MacNeice, and a new poem by Bernard O'Donoghue creates connections between MacNeice and Haberer.
( ISBN 978-2-7535-5488-7, 22 €)
Le livre sera présenté au Centre Culturel Irlandais, 5 rue des Irlandais, 75005 Paris à 19:00 le 12 février. Bernard O'Donoghue fera une présentation intitulée 'MacNeice, Heaney and the Irish Backstop' en présence d'Adolphe Haberer et de nombreux participants à la rédaction de ce volume.
Les personnes désireuses d'assiter à cet événement sont priées de se manifester avant le  10 février auprès de Clíona Ní Riordáin (cniriordain@gmail.com).