G.I.S. EIRE • Etudes irlandaises Réseaux et Enjeux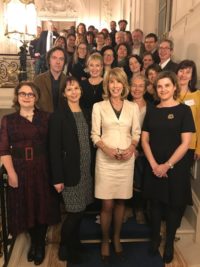 What is SOFEIR ?
SOFEIR (French Society for Irish Studies) is a learned society and an associative structure. It requires individual membership. Its missions are to ensure the circulation of information, to set up links between French Irish studies scholars through the organisation of its annual conference, as well as links with other learned societies in France (SAES, AFEA) and abroad (EFACIS, IASIL, AFIS, AEDEI…). It supports symposia and scientific activities and offers scholarships for mobility or research to Master's, doctoral and post-doctoral students.
To become a member of SOFEIR : contact
Under the impetus of the SOFEIR board, chaired by Anne Goarzin, and with the support of vice-presidents Sylvie Mikowski (project development), Clíona Ní Riordáin (International relations) and Fiona McCann (research), the decision was taken in 2016 to set up a G.I.S., or "scientific interest group". This is a flexible research structure that allows universities to work together on targeted projects.
What is the difference between SOFEIR and GIS E.I.R.E.?
A G.I.S. is a university-based "scientific interest group". It is a flexible research structure that allows universities to work together on targeted projects. It brings together researchers who are also affiliated with existing research units in French universities and abroad.
Membership is institutional, although it can be individual in the case of non-affiliated scholars. Each member institution supports the GIS with a financial contribution, and the GIS in turn supports actions proposed by its steering committee within the framework of research themes targeted over a short period (2-4 years).
G.I.S. EIRE is keen to develop transdisciplinary approaches across the arts, humanities and social sciences.
For 2019-21 GIS E.I.R.E. will focus on the following questions :

1- IRISH DIASPORA, ECONOMY, MIGRATION, INTEGRATION
2- HUMAN RIGHTS AND DEMOCRACY: WHICH IRISH MODELS?
This project has the support of the Secretary of State for the Diaspora and International Development, Ciarán Cannon TD and HE Patricia O'Brien, Irish Ambassador to France.
If you or your institution would like to become a member of GIS EIRE, please contact: anne.goarzin[@]univ-rennes2.fr; sylvie.mikowski[@]univ-reims.fr
---
The 1st GIS EIRE symposium took place on Fri 18 – Sat 19 January 2019
Democracy, Human Rights and Diasporic Strategies in Ireland: Emerging Networks and Models
University of Paris 3- Sorbonne Nouvelle, Maison de la Recherche, Paris